Can you have too much Good Luck?
Rabbit plants his usual lettuce crop, but the resulting forest of green overwhelms him. Of course, his friends are quick to tell him what they'd do with such abundance. See how Rabbit solves his dilemma and comes up with the best solution for all concerned. Join the fun in this kid, parent, and teacher acclaimed Beginner Reader!
Meet Rabbit and some of his wacky friends ...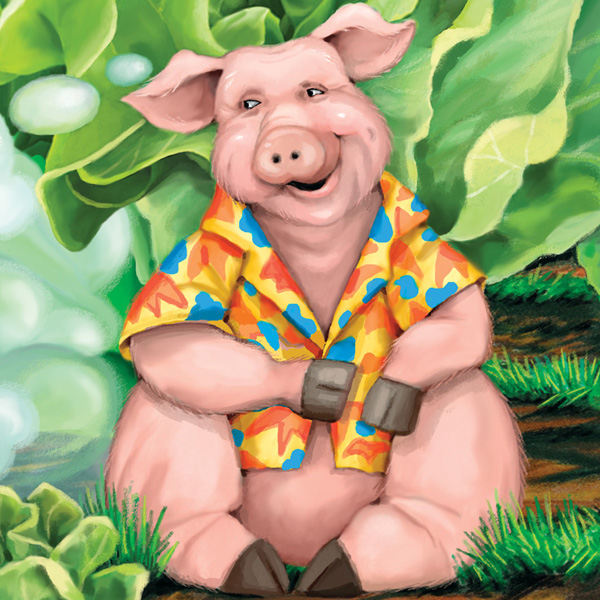 Peek Inside
Here are a few preview pages from the Kindle version
LETTUCE! Preview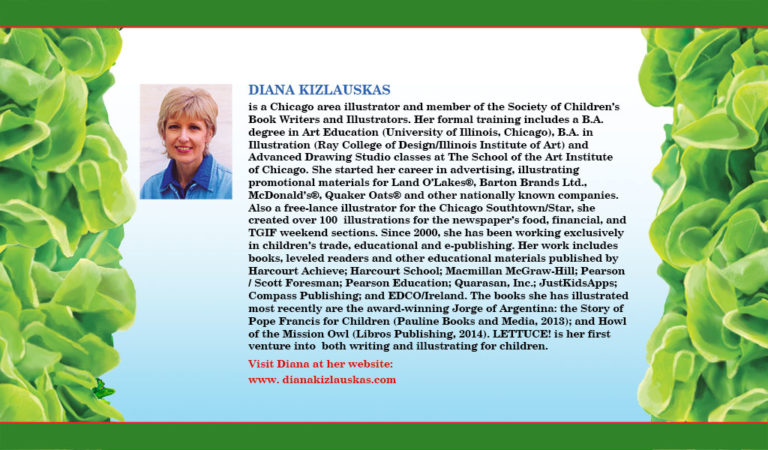 The perfect gift for 3 to 6 year olds for reading fun at story time, bedtime, or anytime!
A humorous story that promotes the value of sharing.
The easy words and fun characters in the story make learning to read fun!
Beautiful illustration and clever humorous rhyme also makes it fun for an adult reading to the child.
Some Reviews
Editorial Review
"Kizlauskas' thoughtful, fun, and compelling tale focuses on Rabbit, who finds that lettuce he has planted has grown as big as a building.
His friends suggest ways to turn it into a fortune, use it for entertainment, and more, but none of their ideas suit Rabbit. Finally, he seeks his friend Owl's advice. Owl is old and wise, but age and illness make it difficult to provide for himself. This gives Rabbit an idea: he can serve the lettuce to less fortunate townsfolk and trade some of the lettuce for funds to create a sanctuary that would provide ongoing care to Owl and his compatriots.
Kizlauskas is a professional picture-book illustrator, and it shows: the book's illustrations are polished, expressive, and easily capture the imagination. More impressive, this rhyming picture book takes a real-world ethical question — What do you do with your own good fortune? — and makes it approachable for very young readers. It also offers adults a way to unpack conversations about friendship, personal morals, and altruism with their children. With its complex themes presented in a simple yet delightful story, this would make an excellent addition to any picture-book collection."
— Booklist
Reader Reviews
"Cute tale that is appropriate as a read aloud or bedtime story for preschoolers or kindergarten children. The illustrations are colorful and charming. I particularly enjoyed the clever way that action verbs are portrayed to convey their meaning."
— Barbara Ann Mojica, author of the Little Miss History series
"Adults and children will enjoy reading this book. The children will have questions about lettuce and how it grew so big. The story is told in rhyme. And it is a wonderful way to entice children into reading. The illustrations by the author are bright, vivid and colorful. They depict the story of Rabbit and his friends. I particularly liked that this story had a good lesson learned. This is an important subject for children."
— prisrob, Amazon Top 100 Reviewer and Vine Voice
"How does a fella deal with LUCK? Can you help me decide? Cute well-illustrated children's book with an 'endEARing' ending about how one shares their surplus. Thought about finishing my review with the final rhyme in the book, but then again would rather have you read it yourself as this 'TAIL' ought leave you with a glow, too. Very good book!"
— Don Kidwell, Amazon Top 500 Reviewer
"A most wonderful blend of words, story and art! Here's why this author is now in my most favorite list. The lines are few and simple, but the most imaginative, colorful and full-page illustrations more than make up for lack of words. Not too often do I meet a book that has such a wonderful blend of words and art."
— Robert Natiuk, Amazon Top 1000 Reviewer and author of YOUR DESTINY: Your Life's Wealth, Purpose, Passion, …
"This book was really a beautifully illustrated book. With vividly colored scenes. The words were carefully chosen to elicit a response from the child. It was a really enjoyable read for the youngest child in the house. She read along and enjoyed that the rabbit was interested in all the other animals opinion. there were skunks, owls even cats and dogs. The animals were also really well drawn and the color was so bright. A lovely book to look at as well as read. The plot was so easy to follow and there were choices that the rabbit had to make about his giant lettuce. I highly recommend this for early readers and younger. Diana Kizlauskas really knows what she is doing when it comes to writing to small children."


— Vicki Goodwin
"In a world full of negativity, what a delightful tale of a rabbit who sees the benefits of the seeds he sows. The true message of humanity in action wrapped up is this sweet tale. It is so true: when you do good, you feel good. Sharing this message in as many ways as possible is something children's literature craves. As an educator, I can see so many benefits to using this story with all ages. The story is brought to life by vivid illustrations and fonts that jump off the page. Readers young and old will be drawn to these characters quickly with a well developed message of the joy that comes from putting others before yourself."


— Karen Klump
"This book by Diana Kizlauskas will not disappoint! The illustrations are amazing. It is an engaging story that will keep you in awe from page to page. The author sends a valuable message to children in the story. I work in a school as a K-5 reading specialist and my students love this type of children's literature. I look forward to the author publishing more great work!"


— Harry Bereckis
"This book emphasizes verbs, description words by making them larger. This can be used for parents and teachers to help teach meaning of words. The story is one which children can see that rabbit had a problem but he talked to others and helped to decide what would be best for all. I highly recommend this book to parents and teachers."


— E. Carter
"I love this book. I like the concept, character's, and the vibrant colors used. I absolutely love everything about this book. The steadily influx of advice that was received and thought process revealed throughout the book in such a short story is phenomenal. I loved that given all of the worldly options rabbit chose the most humane, selfless act…helping others."


— LadieKrissi
"Most of the picture books that show up in my BookBub digest are poorly written — hello verbose word count and adult vocabulary level–and/or have terrible artwork. This is not the case here. Lettuce! is well-written and has terrific illustrations. Highly recommend."


— Sharif