North Pole Mayhem
Chaos and confusion sweep through Santa's Workshop at Christmas when five elves walk off their jobs in search of "greatness." Their misadventure with new holiday careers leads them to learn that they are each special in their own way. As Santa explains, they are already great when they work with love and care, tapping into what is their CHRISTMAS BEST.
Meet some of Christmas Best's characters ...
Peek Inside
Here are a few preview pages from the Kindle version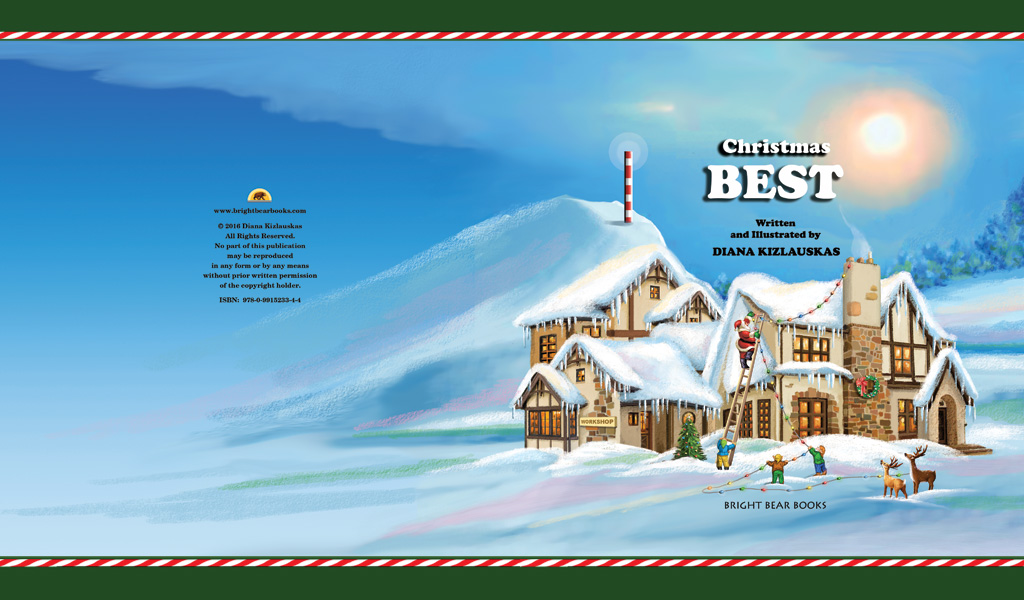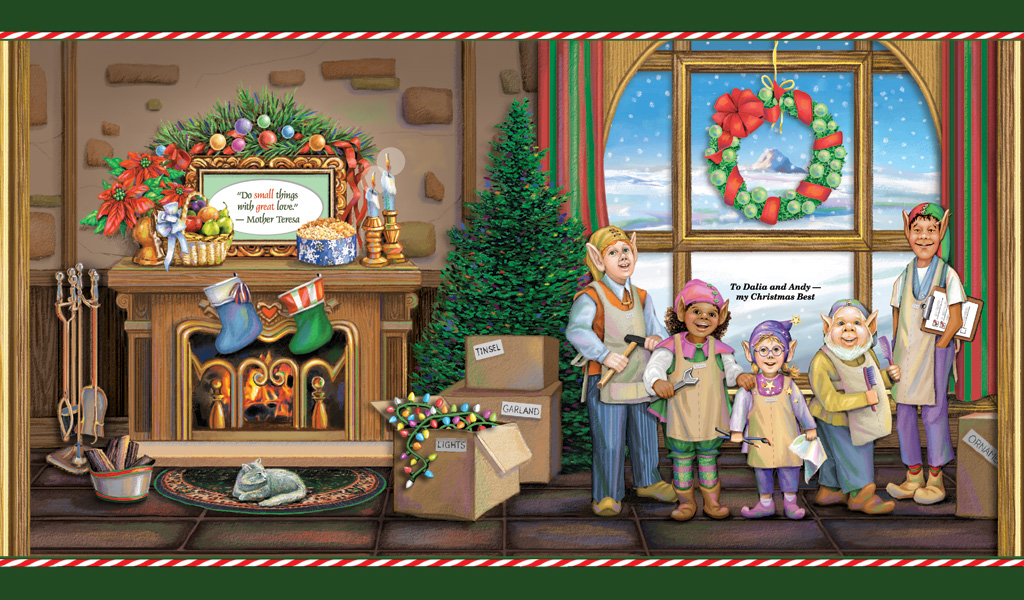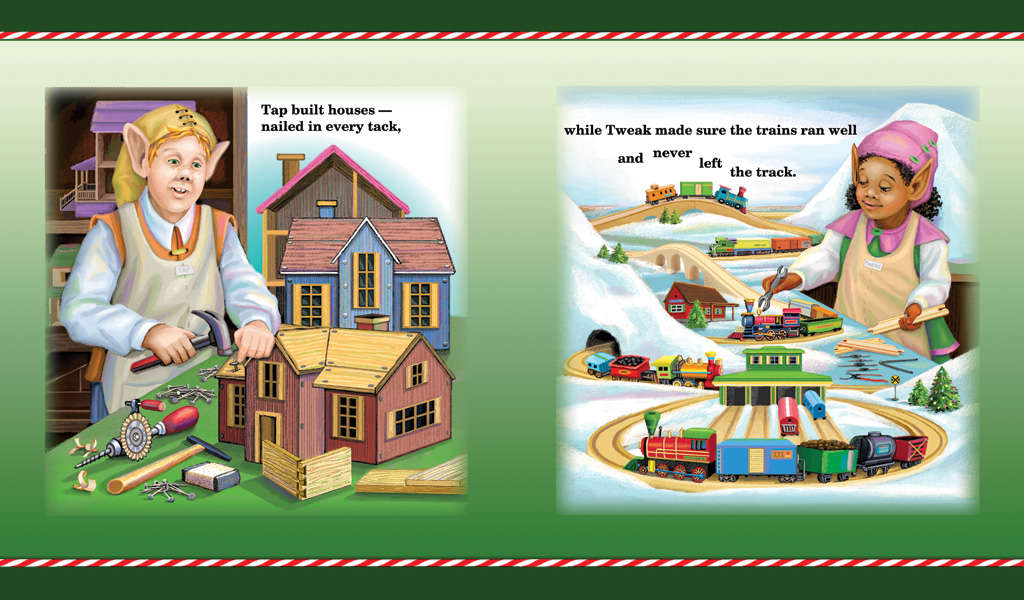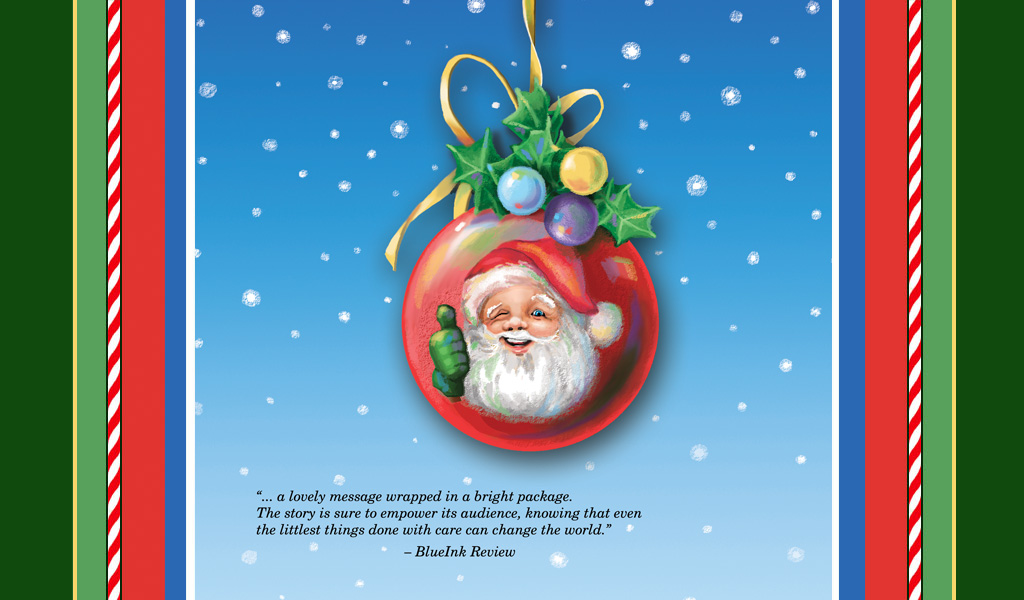 A beautifully illustrated full-color Picture Book for children ages 4 to 7.
The easy words and fun characters in the story make learning to read fun!
Beautiful illustration and clever humorous rhyme also makes it fun for an adult reading to the child.
A humorous story that promotes the value of doing a job well.
Available in eBook for reading on the go, and Paperback or Hardcover versions that are perfect for gift-giving.
A charming little holiday tale you'll want to add to your child's Christmas collection.
Some Reviews
Editorial Reviews
"Overall, this is a lovely message wrapped in a brightly colored package. The story is sure to empower its audience, knowing that even the littlest things done with care can change the world."
— BlueInk Review
"Diana Kizlauskas's holiday-themed picture book for children, Christmas Best, is a gentle and humorous fable about the importance of every chore, job or task, no matter how little it may seem. As Tap, Tweak and the others discover, all the other jobs they thought would be perfect for them fell through, and Santa's Toy Shop was soon in disarray without their important skills. Kizlauskas's story flows beautifully and is sprinkled with word pairs, jingles and matching sounds that will make reading this book aloud at story time as much fun as it is to listen to it. Each panel is gorgeously and intricately illustrated with myriad details designed to delight and surprise the careful reader. The vocabulary and repetition of sounds and words also make this an ideal selection for new readers to try on their own. Christmas Best is most highly recommended."
— Jack Magnus for Readers' Favorite (5 Stars)
Reader Reviews
"Love this colorful holiday book that serves well as a bedtime story or read aloud for preschoolers and primary school children. Tap, Tweak, Twinkle and Top Plumperson are elves who work in Santa's workshop. One day they suddenly decide that their work Is not important enough. They set out to find work that is important. The elves try out baking, caroling, delivering mail, wrapping packages and dancing in The Nutcracker, but find themselves unsuccessful and disappointed with themselves. Deciding that they are most happy working in Santa's workshop where they are successful and needed, the four friends discover the real secret is doing something that not only gives us satisfaction but makes others happy as well. The rhymes are on point and the author's beautiful illustrations lift reader's spirits. Highly recommend that you add this little book to your Christmas collection to be read year after year."
— Barbara Ann Mojica, author of the Little Miss History series
"Exceptional Artwork! Tale of five North Pole elves gone missing one day whom had found their niches in the world and whose talents were found to be sorely missed is one for the ages. Each page is incredibly detailed and that on it's own makes it a cut above the rest. Very good children's book that I enjoyed and I would recommend!"
— Don Kidwell, Amazon Top 500 Reviewer
"Perfect for small children and adults will enjoy the artwork as well. A cleverly written story that engaged the children during Christmas readings and also made all of us appreciate the beautiful artwork included with the story. The lessons of the story shone through and it was told in cute rhyme. I was so happy that I picked this up for the children."


— Vicki Goodwin
"Wonderful Christmas story! Super cute with beautiful pictures! All of us loved it… from age 2 to 50! Good story with a good message."


— Linda
"Our family keeps Christmas-themed books under the Christmas tree, and reads one each night leading up to Christmas. We try to add a new one each year, and we are so excited to have added this story to our tradition! The elves have so much personality, and the illustrations are decadent, with a beautiful message for everyone to do their personal best, which in turn blesses the world. We loved this story, and can't wait for more from the author/illustrator, Diana Kazlauskas! Thank you and Merry Christmas!"


— jk
"Adorable Christmas story. Diana Kizlauskas has written a book that will be enjoyed by children of all ages. Not only is the story fun but it also teaches a lesson. The illustrations are beautiful. This is sure to become a favorite Christmas time story for children."


— E. Carter
"I picked it up on a whim, when I decided to read as many Christmas themed books this holiday season as I can. It was a really cute children's story, from which children can learn that each and every kind of job is important and brings something when you look at the bigger picture. It's also very colourful and contains a lot of fun words that can be introduced to children as the parents are reading the story to them."


— Izabella