Just how bad can a bad day get? BULLY-bad!
A young boy and his dog Stanley suddenly find themselves dealing with a band of comical animal bullies who have invaded their home. There's a rude hippo in the bathroom, a boorish bear in the den and pesky parrots everywhere. The duo is excluded from games by a team of chimps and hippos, taunted by a cocky kangaroo, insulted by an armadillo and assailed by a jam-slinging tortoise. When a scary lion brings the mayhem to a fur-raising climax, the two buddies resort to hiding in the attic. How will these unlikely heroes win their battle with the bullies?
Follow their struggle and its happy resolution in a zany tall tale designed to help children identify and handle bullying. Resources for parents and teachers are included at the back of the book.
Peek Inside
Here are a few preview pages from the Kindle version
A BULLY-BAD DAY Preview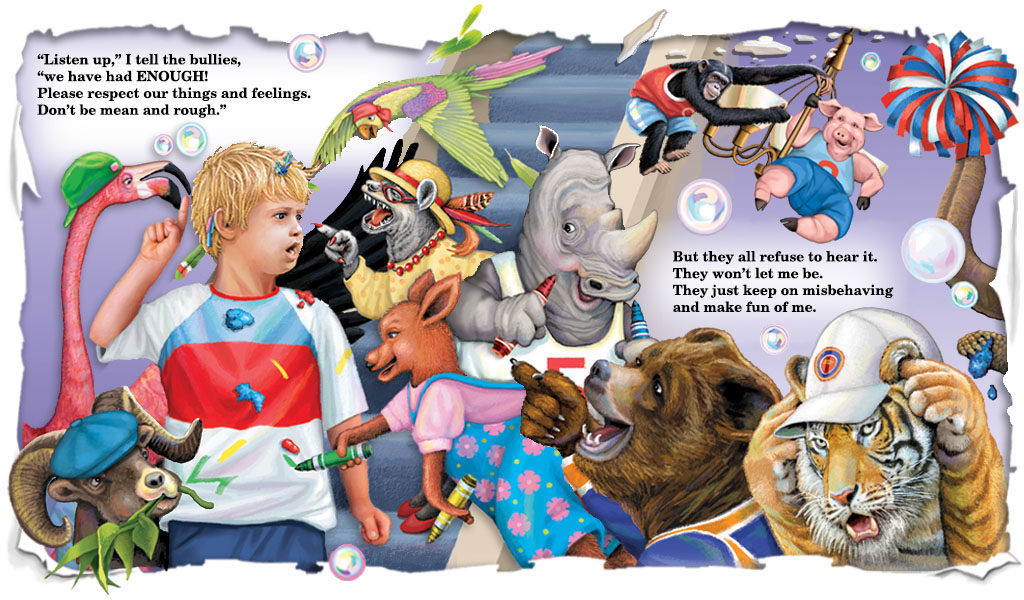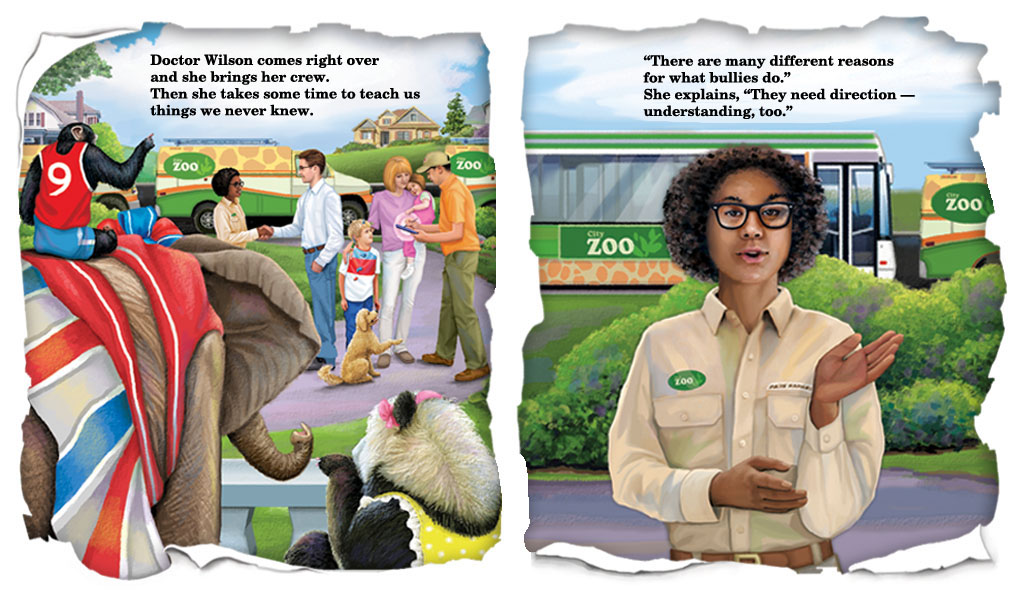 A full-color, richly illustrated picture book for children ages 4-7.
Rhymed text ideal for reading aloud.
For use at home, classroom or library to discuss bullying with children.
A whimsical story for general family entertainment.
Vocabulary suitable for beginner readers.
Some Reviews
Editorial Reviews
"A boy and his dog deal with a sudden influx of bullying and bad-natured animal guests in the charming picture book
A Bully-Bad Day
. The story is zany and entertaining, but the parallels to human bullies are easy to see, allowing kids to absorb the larger message about how to handle bullying.
Although the story and writing are excellent, the book's highlight is the artwork, which incorporates realistic portrayals of the boy, his family, and Stanley, along with enough cartoonish elements for the animals to show recognizable facial expressions. The parrots, rhinos, and other animals are colorful and carefully textured, and every page is packed with fun details, like a kangaroo marking the boy's shirt with a crayon, or a bear using the family's TV remote.
Filled with excellent rhythm, composition, and technique,
A Bully-Bad Day
provides a story and art that children will thoroughly enjoy."
— BlueInk Review / Booklist
"In Diana Kizlauskas's whimsical picture book A Bully-Bad Day, a boy and his dog face an onslaught of troublesome animals.
Inventive turns like bears in sports gear, predatory cats with painted nails, and a squid lounging in the washer make this a fun take on a serious subject. The illustrations burst with details and color…
The story is followed by a list of resources for confronting bullying, while the rhyme scheme that runs throughout makes for easy, rhythmic reading."
— Clarion Foreword Reviews